Here you will find enough space
Are you planning a major business event? With its unique energy, Bosön offers winning, comprehensive solutions for all types of events, with space for up to 2,000 guests and proximity to central Stockholm.
Bosön, located on northern Lidingö, is not only a natural meeting place for Sweden's athletes and sports teams, but also the perfect venue for every type of major business event. We offer generous
spaces both indoors and outdoors, including Vinnarhallen with its capacity for 2,000 seated guests. Over the course of a single day, the full-size artificial turf field can be transformed into a conference
hall with a stage and stands or cinema seating, to a festive banquet hall and finally a dance floor. Perfect for a major business or organisation looking to perhaps treat their employees to a full day's
kick-off event. If you would prefer to spend your time outdoors, then our vast grass areas on the banks of Askrikefjärden might be exactly what you are looking for. Here you will find firepits, pétanque pitches and plenty of space for different kinds of activities in naturally beautiful surroundings with the sea as your horizon.
Winning complete solutions
The Bosön event team has substantial experience of all sorts of corporate events, from large kick-offs to 50-year anniversaries and car shows, and we are more than happy to help you with everything from logistics to technical equipment and planning the finer details. With our expertise, our wide network of contacts and the amazing setting of Bosön, there is little we cannot fix, so do not hesitate to contact us and make a booking request, regardless of how ambitious your plans are. In addition to our generous indoor and outdoor event venues, as well as a full selection of services, we offer a unique environment for training and testing, a modern hotel with 121 rooms in different price classes, two restaurants serving delicious food made from organic and locally produced ingredients, as well as a carefully curated selection of activities and lectures to help you develop, grow as a team and create a winning culture – in other words, everything you need to create a winning business event.
Did you know?
Bosön's conference, hotel and restaurant business area is Swan Ecolabel-certified, proof that we are doing our part for the environment and contributing to sustainable development.
Book online
Booking enquiry
Book online
If you are more than 25 people or have more questions? Please, send an booking enquiry instead.
For more information please contact us by phone or email: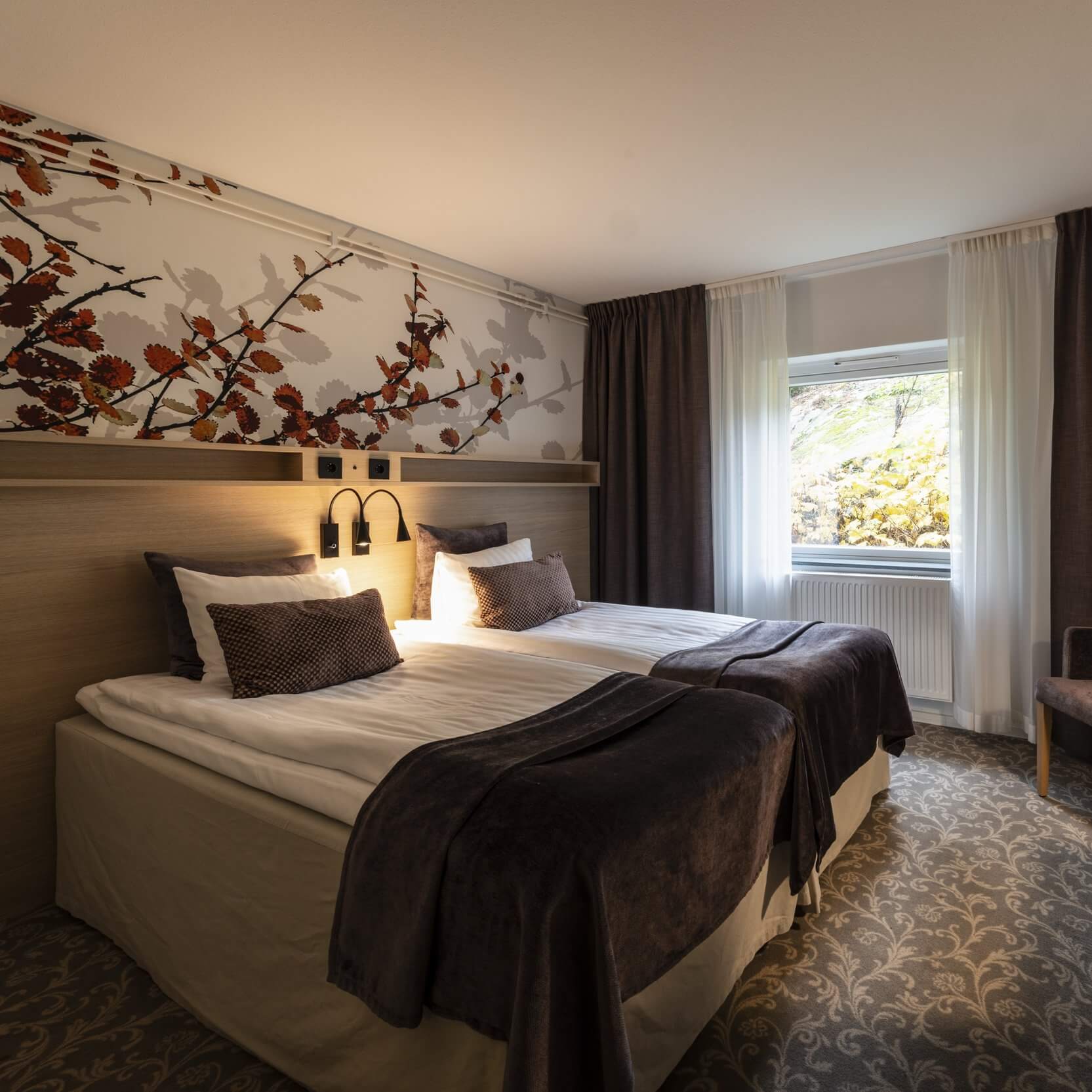 With 340 beds in 121 modern hotel rooms we can offer accommodation to a lot of guests when you're hosting an event at Bosön.
Read more