Framgångshallen
Framgångshallen is the very heart of Idrottshuset. A recently renovated training facility with considerable capacity, designed for general athletic training and catering to active athletes from all sports. Within and beyond a 200-metre oval track with perfectly calibrated dimensions, there are endless opportunities for conditioning, activation and strength training. There is a straight track measuring 110 metres, as well as a sand pit for the long jump. Framgångshallen also has an expansive area with new sport-specific fitness equipment. The SkillRun treadmill with connectivity and biofeedback, the curved SkillMill treadmill where the sprinter themself serves as the motor, double pole machines, fitness bikes, cross trainers, test bikes and rowing machines. Framgångshallen houses flexible and bookable areas without equipment combined with several sections with fixed equipment. Areas with fixed equipment can also be reserved.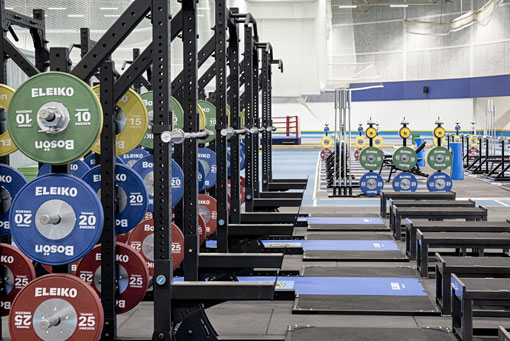 Bookable spaces
There are two large spaces for group training that are by default completely unfurnished. 12 x 12 metres in one corner where balls are allowed, in addition to 12 x 20 metres on the inner field where balls are not allowed for safety reasons. These are often used for instruction, classes, group training and different technical exercises with or without a ball, weight or tool.
Adjacent to the 12×12-metre space, a mobility and movement-oriented space can be reserved. Here you will find balls, wall bars, belly back, stands for dips and hip lifts and much more for mobility training and stretching.
Bosön has a completely unique open crossfit rig with slamballs, medicine balls, rowing machines, kettlebells, thick ropes, rings, dumbbells, an integrated smith machine, punching bags and plyo boxes. It is suitable for groups of around 15-20 people.
Beside the crossfit rig is a full-size martial arts ring. This is often booked together with the rig. The martial arts ring is suitable for groups of just under 10 people.
These two spaces (the crossfit rig and the martial arts ring) are frequently used together when conference groups or a group of students want to do an all-round strength building circuit prior to or after a day in the conference rooms.
Inside the 200-metre running track, you will find 5 weightlifting stations that can be combined in many different ways. 3 areas contain 4 racks, each with a bar, chinrack and stand for dips. 2 areas contain 5 traditional weightlifting podiums with a bench and rack. Each station is suitable for three active users. We also have movable brutal benches. These areas ore often used for conducting strength tests.
Next to the weightlifting podiums is a 40-metre-long and 2-metre-wide track with artificial turf. It is often used for pulling or pushing sleds/prowlers, barefoot sprinting, agility, jumping, coordination etc. Cones and hurdles can be borrowed. This area is suitable for up to 10 people at once. The space needs to be reserved for those wishing to throw javelins or other activities that require some form of run-up against the throwing net.
The straight track is 110 metres long with four lanes. It can be booked for tests, sprints, flying 30 sprints etc.
All bookable areas can be used by admission ticket holders, provided they are not reserved. All the bookable areas will never be reserved at the same time. There is always space available for strength and running training.
Gym space/Weight training
Framgångshallen has a free gym section with a number of machines designed for fitness and weight training. The fitness machines include treadmills, curved treadmills, cross trainers, exercise bikes, rowing machines, double pole machines and watt bikes. The weight training machines include leg presses, leg machines for the front thigh, leg machines for the back thigh, 2 seal rowing machines, a full free-form weightlifting area with light dumbbells, heavy dumbbells, kettlebells, sloped benches, a D.A.P dual adjustable pulley, Half Racks and a large Cable Cross. The age limit for using the fitness and weight training machines without trainer supervision is 16.
A-pitch
Inside the circular track in Framgångshallen, you will find an area dimensioned and marked out for handball, floorball, football and badminton. You are of course free to use the space for other sports as well. It is often used for group training, classes and instruction.
This area is booked for national team gatherings, training camps, classes, conferences and meetings. It can be booked during certain days and times. Two weeks in advance, the remaining times will be released for booking.
Facts:
Length play area: 40 metres

Width play area: 20 metres

Total length 44 metres

Total width 24 metres